An engineering laboratory run by engineers for engineers and researchers
Experimental Services in an A2LA accredited independent mechanical testing lab specializing in rubber products, plastics and steels.
ESI personnel come from a Tier 1 Automotive Rubber Supplier background and have experience in testing, product design, compounding and manufacturing rubber and rubber to metal bonded products. We also test structural components for ultimate and fatigue life, vibration resistance, environmental resistance and stiffness characteristics. ESI testing capabilities span across industries including:
Automotive
Rail
Heavy Truck
Military
Aerospace
Biomedical
Agricultural
Sporting Goods
Rubber
Mechanical Goods
Oil and Gas
Experimental Services provides the best in engineering background for performance-testing engine mounts, suspension bushings, muffler hangers, torsional couplings and vibration dampers. In fact, our experience in tooling design, system integration and computer-controlled analysis of automotive rubber-to-metal bonded products is unsurpassed by any other independent lab. We constantly access the latest computer software, hardware and supporting technologies to ensure that position.
Automotive component testing requires accurate, repeatable results and a quick turnaround time. Our engineers have assembled the widest range of leading edge test equipment available for this purpose. We provide unparalleled experience and extensive lab capabilities not found in any other resource of our kind.
Experimental Services tests components as shown here under conditions which duplicate the actual loads, motions, velocities and temperatures experienced in service.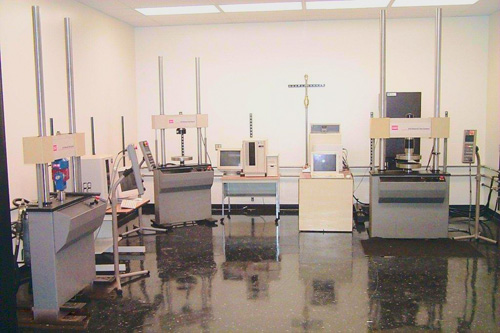 Material Properties, such as modulus or transmissibilty can be evaluated as a function or dynamic strain, excitation frequency or temperature. Screening compounds using material tests can optimize the development process by minimizing costly prototype trials.